Our Principals & Directors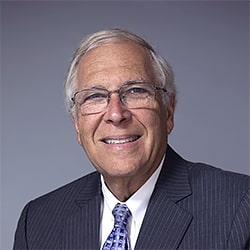 Wingate Grant
Senior Counsel
---
Before joining the professional team at Madison, G. Wingate (Win) Grant served as an Assistant United States Attorney for the Eastern District of Virginia for 38 years before retiring in 2018. He represented the United States in a variety of civil affirmative and defensive cases before moving to the Monetary Penalties Unit where he specialized in asset forfeiture and restitution. He was the director of the MPU for 20 years where he supervised a group of prosecutors, paralegals, analysts and investigators, and he personally handled many of the district's most high profile cases including the Bad Newz Kennels case involving the forfeiture of 49 pit‐bull dogs belonging to Michael Vick, the 2008 Sports Illustrated story of the year, and a civil forfeiture case involving the forfeiture of millions of dollars of foreign assets.
Win was instrumental in drafting the provision in Rule G of the Supplemental Rules for Admiralty or Maritime Claims and Asset Forfeiture Actions of the Federal Rules of Civil Procedure, and has contributed to many Department of Justice policies and publications. He is also a well‐known speaker who has taught asset forfeiture law and procedure to federal, state and local law enforcement personnel across the United States. He has lectured to law enforcement personnel, legislators, prosecutors and judges at numerous seminars around the world. Win is a co‐author of the book Stolen Asset Recovery – A Good Practices Guide for Non‐Conviction Based Asset Forfeiture, published by the World Bank and translated into multiple languages.
In addition to his asset forfeiture duties, Win prosecuted a variety of federal criminal cases including white collar fraud, money laundering, criminal tax and drug offenses. Win is the recipient of numerous awards from the Department of Justice, including a 2012 Crime Victims Restoration Award presented by the Attorney General for Win's work on using asset forfeiture to compensate victims of crime.